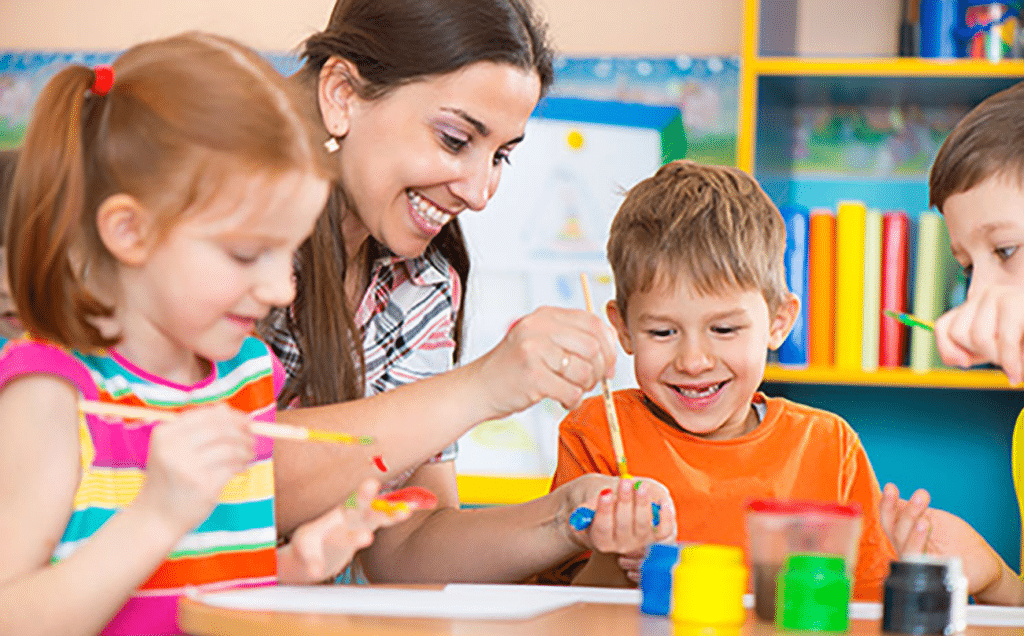 Whether you are working as an independent child minder, as part of a private nursery provision or in a school early years setting, EYFS assessment has the same key elements.  Ongoing formative assessment through observation of the child and less frequent summative assessment which is planned to take place 3 times in the revised EYFS framework from September 2020: the 2-Year-Old Check, Reception Baseline and the Early Learning Goals at the end of Reception.  Some settings may also use summative assessment on a termly basis to help judge how well cohorts of children are progressing towards age-typical levels of development.
There have always been two schools of thought around the recording of EYFS assessment information, and this may depend on the type of setting you work in and there is no right or wrong approach.  In some cases, you may want to record every little step a child makes against individual statements of the curriculum (formative assessment) and in some cases you may wish to only record summative assessment.
Choosing an EYFS assessment tracker, like Tiny Tracker, gives you the complete freedom to record assessment information in a way that meets your needs – it could even be a combination of formative and summative for all or just some of the children you are working with. For example, you may want to record small steps for children who are not yet at an age-typical level of development and use broader brush strokes for others. One of the many benefits of using an online package like Tiny Tracker to store and record your assessment information  is its powerful range of reports to help inform next steps in learning, analyse how well individuals and cohorts of children are developing, either against their chronological age or a termly age-related-expectation and quickly provide information to parents, carers and outside agencies.
Observations
Whichever method or blend of approaches you choose for EYFS assessment, both are crucially underpinned by ongoing observations of children. Observation is the finely-tuned art of looking at, and listening to children to see what they enjoy doing and how they interact with others and the environment around them to closely examine what they can do and how they are developing.
Through careful observation, practitioners are able to identify how closely resources and activities not only match a child's ability and interests, but how closely attuned they are to a child's learning style. By integrating Characteristics for Effective Learning along with key curriculum areas will help tailor the complete learning experience.
Observations are a vital tool for bringing all the elements of the known and hidden curriculum together. They enable practitioners to witness a child's unique set of abilities, talents and interests across a wide range of opportunities and learning locations. Observing children in different locations for example inside the setting, outdoor-play, at Forest School etc enables the observer to see how they respond in different environments and will allow the child to develop and demonstrate a different set of learning characteristics. Selecting an EYFS assessment tracker, for example like Tiny Tracker, enables you to complete observations against multiple disciplines simultaneously.
Obviously, one observation is just a snap-shot in time, and can only account for that moment. Pulling together all of the evidence gathered from systematic and routine observations, and if possible, from a range of adults, allows practitioners to gauge children's needs and next steps more accurately than a single observation.    Regularly sharing observations with the child and parents and carers will provide a more holistic view of the child and ensure they remain at the centre of future planning.
Involving Parents and Carers
There are many ways to involve parents and carers in a child's learning, achievement and developmental next steps, and this will largely depend on they type of setting you work in, and the families you are working with. One of the simplest ways to ensure that all adults are involved is to share online learning journeys through providers like Tiny Tracker. This enables all staff to contribute observations, upload digital evidence and record narrative so that a holistic picture of the child can be quickly and easily drawn together, sharing the best bits with parents through the Parent Passport.  This is a perfect solution that allows parents to engage in day to day learning and relive those captured special moments, that may be missed while they are at work.  It also gives parents and carers the chance to contribute their 'Wow Moments' too by uploading additional evidence to a child's learning journey to share with staff.
The Future of Assessment in EYFS
September 2020 sees the new EYFS baseline introduced in all schools following the trial in 2019.  While this will provide some information as to a child's ability in communication, literacy and maths, we need to remember that this is a snap-shot in time assessment, and conducted in a false-environment.  We know that the DFE do not intend to publish raw score results which will be stored only to form the progress measure at the end of Key Stage 2. The new baseline is definitely not a substitute for your own observation-based baseline across each area of Development Matters, as this will continue to provide you with a clear picture of where children are, what they can and cannot do.
We also see the trial of the new Early Learning Goals in Summer 2021, which is being piloted by a number of schools across England. The ELGs have been reviewed following the initial consultation and have not been published further than the schools taking part in the trial. It is unclear at the moment the role external moderation will have with the new EYFSP, and we expect to see clearer guidance on this in the Spring term of 2021.