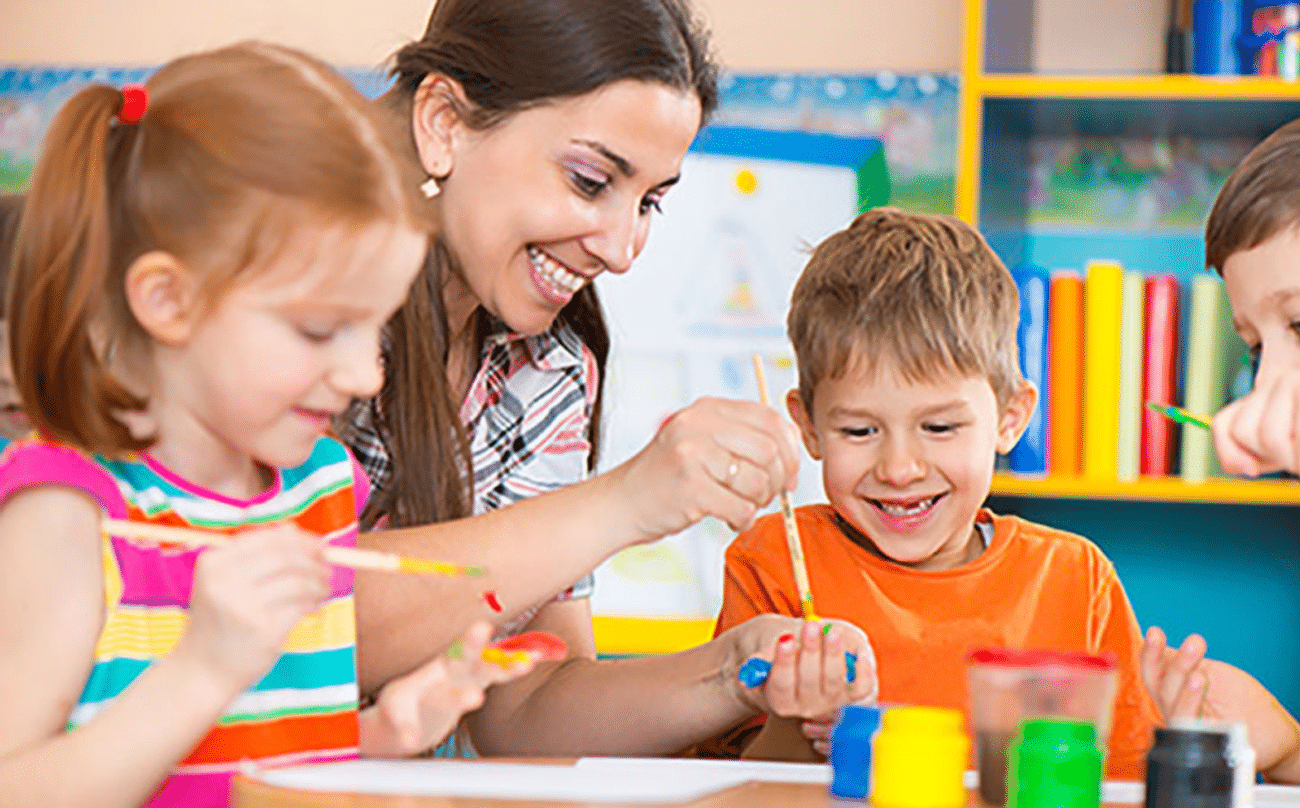 What to find in this article:
Whether you are working as part of a nursery, within a preschool or any early years setting, EYFS assessment has the same key elements needed to ensure all children can reach their full potential. Discover why Educater's EYFS tracker is the best easy-to-use online learning journal for pre-schools and reception classes.
The EYFS Statutory Framework is a set of standards that schools and early years settings must follow to ensure children aged from birth to 5 have the opportunity to progress and develop in a safe environment, and ensure they have the knowledge and skills to prepare them for school.
The EYFS Framework provides teachers and practitioners with a set of principles which they must follow to guarantee the promotion of high quality education is at its best. The core document is for all professionals working in the foundation years, and provides parents/carers with the confidence that regardless of where they choose for their child's education, they can be sure that the same statutory principles will form their child's learning and development.
Alongside the Statutory Framework within EYFS, there are two other Non-Statutory Guidance which support practitioners in improving their practice and learning experience for children in their care.
Development Matters is a non-statutory guidance which provides a top-level view of how children develop and learn. Designed to support curriculum development, the guidance can help to build on strengths and meeting the children's needs.
Birth to 5 Matters is also a non-statutory guidance developed by the Early Years Coalition. The guidance supports practitioners with their statutory responsibilities within the EYFS areas of learning and development, to help children make progress towards the Early Learning Goals (ELGs).
The Observation, Assessment and Planning Cycle
The process of observing, assessing and planning within the EYFS is a crucial factor in identifying children's individual needs, interests and abilities. For learning and development to flow effectively, following the three step cycle will ensure every child is making good progress and that they all meet the appropriate targets.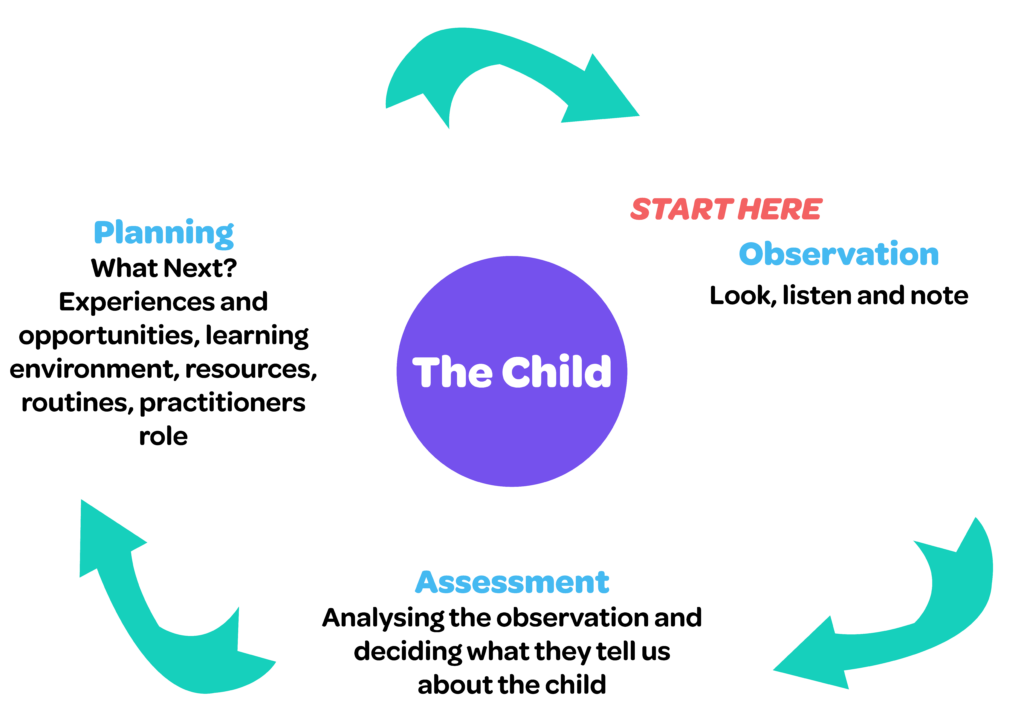 Whichever method or blend of approaches you choose for EYFS assessment, both are crucially underpinned by ongoing observations of children. Observation is the art of looking at, and listening to children to see what they enjoy doing and how they interact with others and the environment around them to closely examine what they can do and how they are developing.
Through careful observation, practitioners are able to identify:
how closely resources and activities match a child's ability and interests
how closely attuned they are to a child's learning style
By integrating Characteristics for Effective Learning along with key curriculum areas, these will help tailor the complete learning experience.
Observations are a vital tool for bringing all the elements of the known and hidden curriculum together. They enable practitioners to witness a child's unique set of abilities, talents and interests across a wide range of opportunities and learning locations. Watching them function in their environment naturally shows their choices and preferences. We can see if they are drawn to particular types of activities when several are available. Over time, we learn whether they have intense likes of some content or are happy to spread over a variety of areas.
Observing children in different locations for example:
inside the setting
outdoor-play
at Forest School
enables the observer to see how they respond in different environments and will allow the child to develop and demonstrate a different set of learning characteristics. Selecting an EYFS assessment tracker, for example like Tiny Tracker, enables you to complete observations against multiple disciplines simultaneously.
Obviously, one observation is just a snap-shot in time, and can only account for that moment. Pulling together all of the evidence gathered from systematic and routine observations, and if possible, from a range of adults, allows practitioners to gauge children's needs and next steps more accurately than a single observation. Regularly sharing observations with the child and parents and carers will provide a more holistic view of the child and ensure they remain at the centre of future planning.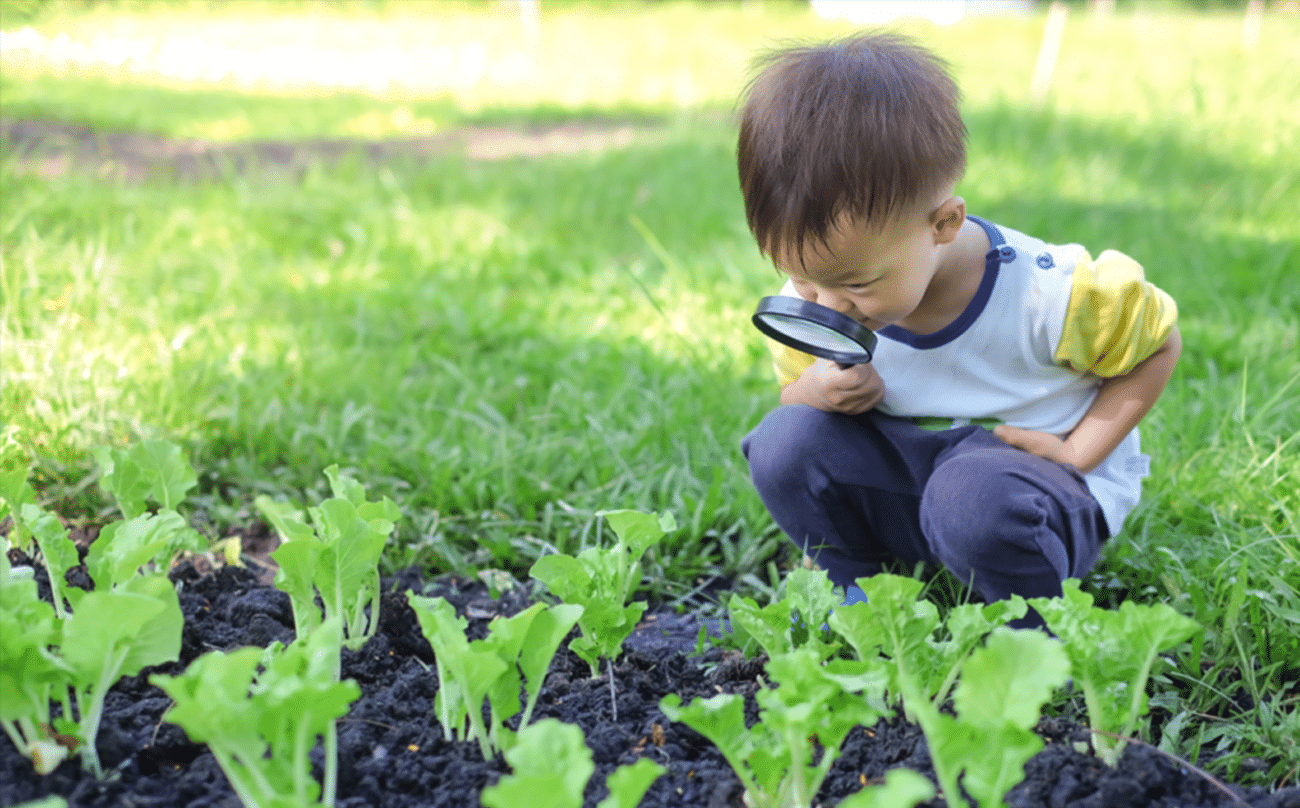 An EYFS observation can include anything that is noticed by the adult. It can include:
what the child does
what the child says
what the child touches
where the child goes
who they are with.
Their choices and preferences can be recorded, the things they ignore can be as pertinent as the things they select. Their interactions with their environment can be narratively described in fine detail on a minute by minute agenda. Inevitably, the observation can become too involved and determining the type of observation is useful before even embarking upon making notes.
Only occasionally are observations made as a 'fly on the wall'. Standing back and seeing the natural child centred activity has huge merit but is so often punctuated with the adult themselves interacting with the children. If an adult wishes to take some uninterrupted time, one option is to show the children a 'signal' that they are not to be disturbed, such as wearing a certain item of clothing or an unusual hat. (EYFS adults have been seen wearing princess tiaras for just this purpose). Other colleagues in the room need to be in on the prompt and then they can field the demands of the children.
More often, the observations are being done right in the middle of live action with the children. Adults are involved in the play, asking questions, prompting questions, and then notes are made quickly in between sections. This by no means negates the observations, rather adds some further insights into them, by the adult seeking more information as the observation progresses.
Observing in EYFS settings
There are distinctly different considerations made whether you are working in a setting, with multiple other adults and many children or as a solo adult with a smaller number of children.
Within an EYFS setting, it is vital that there is some degree of coordination between the adults involved, for example:
rotas to cover the various areas of a setting
allocating staff members to the outdoors to observe the children
If a long observation is required on one individual child, then a member of staff will:
need to be dedicated to that observation
ensure all colleagues are aware that they will be following one child for the required time slot
it is important that they are left uninterrupted for the agreed period of time.
It is important that the documentation is spread evenly over different children and a reasonable range of activities. Within Tiny Tracker, children who have not had an observation within a certain time period will receive an alert colour code on their dashboard picture. This makes it straightforward to pick up children who are 'falling below the radar.
Assessment is the process of analysing and evaluating what we know about children's development and learning. Practitioners need to ask themselves the key questions: "What does our observation tell us about the child?"
Assessment within EYFS comes in two forms.
Formative: Ongoing assessment though observation of the child. Practitioners will perform daily observations to see what the child has learnt or where they need support to move forward. Formative assessment informs the next steps in learning.
Example: A child can build a tower out of Lego.
Summative: Usually takes place twice a year. The first assessment occurs when the child is between 24 and 36 months, and the outcomes are recorded to identify the child's strengths and learning needs. The second assessment takes place at the end of the Early Years Foundation Stage/the final term of reception class. This assessment is used to summarise all the different information recorded against the child to show achievement.
Example: The child can now jump over an object and land with both feet together.
Choosing an EYFS assessment tracker, like Tiny Tracker, gives you the complete freedom to record assessment information in a way that meets your needs – it could even be a combination of formative and summative for all or just some of the children you are working with.
For example, you may want to record small steps for children who are not yet at an age-typical level of development and use broader brush strokes for others. One of the many benefits of using Tiny Tracker to record assessment information is its powerful range of reports to help inform next steps in learning, analyse how well children are developing, either against their chronological age or a termly age-related-expectation and quickly provide information to parents and carers.
Judgements help to plan what needs to be provided for the child in the future. Observations and information gathered, along with evidence (photographs, drawings) from parents, feed into the day-to-day provisions, experiences and interactions planned for the children.
It is how we decide what experiences to provide and how best to provide them. It determines what you will encounter in a setting but should not be so restrictive that it takes over and is not flexible to need.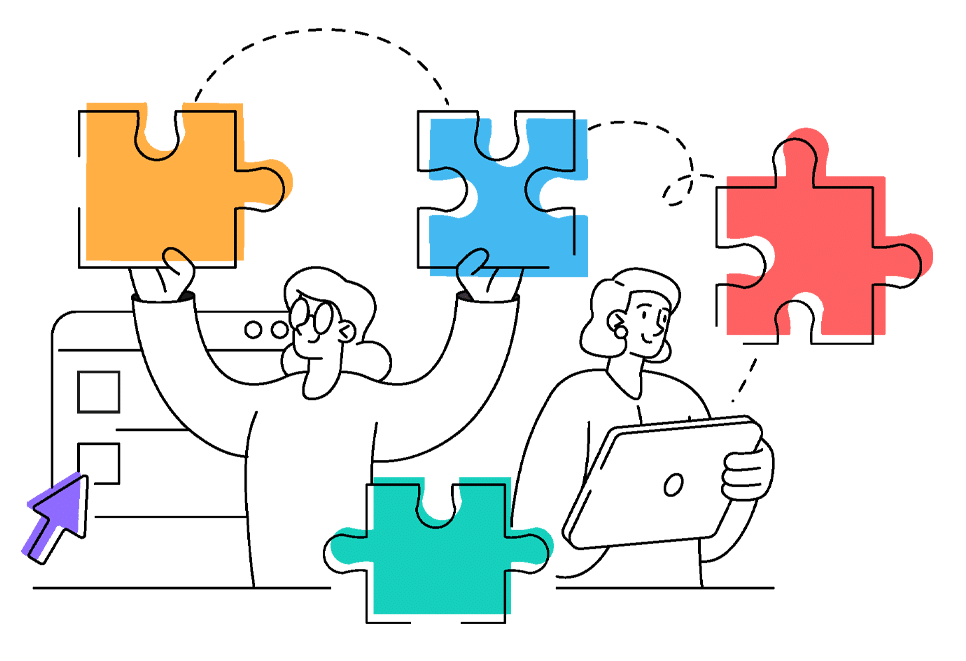 Planning allows us to support a child's next steps and to ensure learning is consolidated. Without planning there is no direction, only limited support and the potential for a very narrow curriculum.
EYFS planning can be broken up into a number of elements. These are often referred to as:
Continuous Provision:
when the children are leading their own learning
consolidating what they already know
being encouraged and supported by practitioners
Focus Activities:
deciding if the children have free access to everything
resources provided for children to choose from to semi direct their play
a specific activity with its own resources
You will also be planning for practitioner directed input especially if your recording shows gaps in learning for groups of children. Dips in learning can also be easily seen through creating attainment and progress reports supporting the creation of target individuals or groups who need to be planned for. This could take place during continuous provision or by setting a specific time aside, different methods work in different places. In a very simplistic way it is showing who is doing what, with which children, where, with what, what are they learning and what do they need to learn next?
Using the time-saving reports from Tiny Tracker you can see what the children need next to consolidate, extend or learn something new and can plan for this. Bringing all this together you have a plan of what to do each day and all members of the team know what is expected of them. Looking at the EYFS learning journey and uploaded evidence provides further prompts for what you need to provide.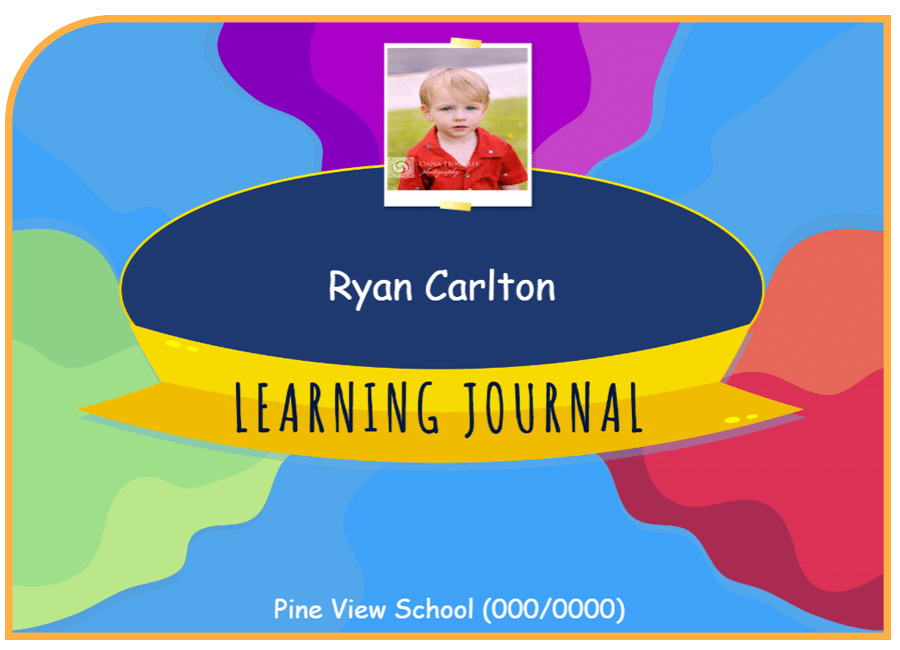 Planning should then be revisited to lead into the next planning window as what has gone on before. providing a good basis for what to do next. Combine this with assessment and progress reports, check your gaps in learning, and you are already half way there.
Long-Term: Usually gives an overview for the year ahead with the themes and topics covered over the upcoming months.
Example: Visiting a farm, celebrating a birthday and Gardening.
Medium-Term: Usually lasting between 4 to 6 weeks to understand the children's interests.
Example: Storytime, Observing changes in fruit and Count gold coins.
Short-Term: Developed from Medium and Long-Term Plans to organise daily or weekly arrangements.
Example: Grandma visiting, Sharing holiday pictures and Wanting to play fancy-dress.
Involving Parents and Carers
There are many ways to involve parents and carers in a child's development. Using a parent communication tool, such as our Parent Passport, allows observations and regular updates to be shared.
Sharing online Learning Journals allows parents to engage in day to day learning and relive those captured special moments, that may be missed while they are at work. It also gives parents and carers the chance to contribute their 'Wow Moments' too by uploading additional evidence to a child's learning journey to share with staff.