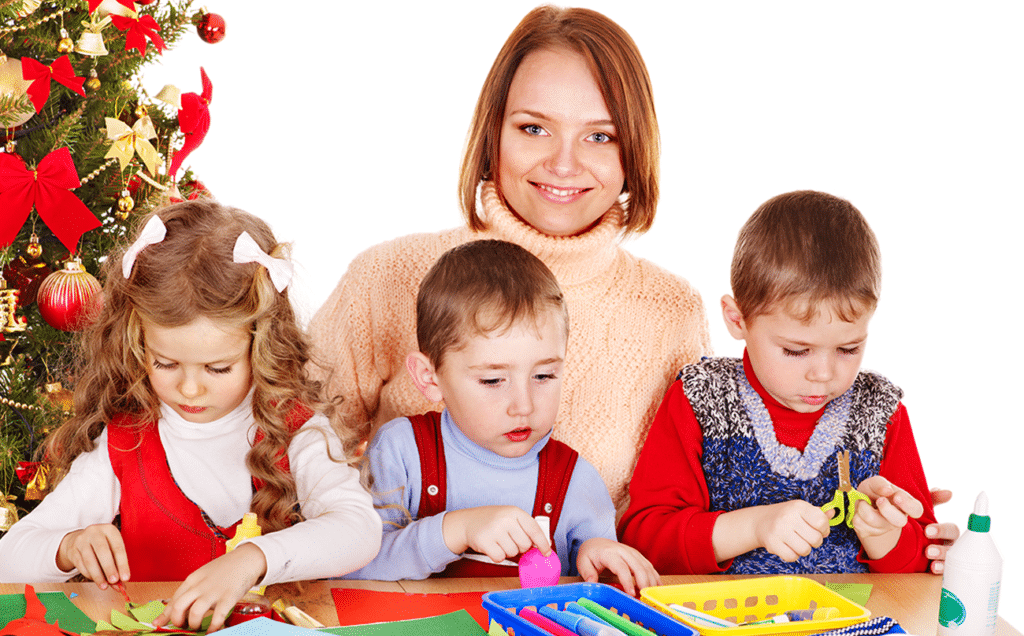 Christmas is upon us, yet there's still so much to do before the festive break, such as christmas nativity shows, tidying classroom displays, organising teaching materials and so much more. So we've tried to make the last week of school that little bit easier by bringing you 12 Christmas activities for preschoolers.


1. Letters to Santa
Your preschoolers are going to be very excitable in the build up to Christmas, so this is a great opportunity to get them to write letters to Santa. Sitting the children to write their letters not only gives them a chance to practice their handwriting but may even create a moment of calm in the classroom. In addition to this you could also create a festive classroom post box, which the children can post their letters to Santa in.
2. Naughty elf treasure hunt
As the name suggests this is a treasure hunt to find the naughty elf. You can leave seasonal clues around the classroom that gradually lead the children to where the elf is hiding. For a fun twist you could also leave a prize with each clue. This will encourage the children to work as a team and work on their communication and language development. Just make sure there are enough prizes to go around otherwise you may have a few extra naughty elves on your hands.


3. Story time
Story time is great for when the children are a little over excited and it allows you the opportunity to share some other classic Christmas stories. There are so many to choose from, including the Christmas nativity, the Grinch, the Snowman and a Christmas Carol. Story time and reading will also improve their literacy development and understanding of the world.

4. Do you want to build a snowman?
Marshmallow snowmen are not only easy to make but also really tasty. You will need cocktail sticks, marshmallows, strawberry laces, orange icing and black icing. Place three marshmallows on a cocktail stick, and wrap a strawberry lace around the marshmallow as a scarf. Use the orange icing for the carrot nose and black icing for eyes, mouth and buttons. This can be a little messy so a demonstration and a watchful eye is needed. You can use polystyrene to place the sticks in until they are dry or to keep until home time. The polystyrene also looks like snow.


5. Gingerbread man decorating
If you have the facilities to bake your own gingerbread men then great, but if not you can always buy plain ones that can be decorated. You can use chocolate, icing, sweets and sprinkles to make a gingerbread version of the whole class. Ask the children to use the treats to decorate the gingerbread to look like themselves. This will help encourage their personal development and an understanding of self awareness.


6. Christmas bingo
Christmas bingo is the same as regular bingo but with the added element of learning and Christmas fun. Instead of using numbers you can use festive images in each square so that the children have to count in order to win, such as one santa, two snowmen, three reindeer, four robbins and so on. This will also help their understanding of counting and can be played several times.


7. Christmas card making
Christmas card making is really simple and you will most likely be able to use the classroom supplies that you already have. Ask the children to draw, colour and decorate cards for their families as well as write a message inside. This will help develop their handwriting and will be a really nice surprise for their families.


8. Thumbprint Christmas Lights
Children always enjoy arty crafts and this gives them something festive to take home and show their families. Draw or use a print out resource of a black wavy line across plain paper to make the wire of the Christmas lights. Get the children to dip their thumbs in different coloured paints, then place their thumb print along the wire to create the bulbs of the christmas lights. This is really simple to make but the end result is ever so effective.


9. Snowflake tree decorations
You will need coloured or plain popsicle sticks, ribbon or string, sequins, glitter, white feathers and pva glue. Use the pva glue to stick three popsicle sticks together in a snowflake cross shape. Use the glue, sequins, glitter and feather to decorate the snowflakes and leave to dry. Once the glue has dried, attach the string or ribbon to the snowflake and tie in a knot so it can be hung on the tree. The children now have their very own Christmas bauble to hang at home.


10. Angel handprint
Draw or use a print out of an angel with no wings on plain paper. Ask the children to colour in the angel and her halo. Once they have finished colouring in, the children can dip their hands in paint and place their handprints on either side of the angel to create the wings. This will make a great classroom display or they can take their artwork home.


11. What's in Santa's sack?
This is a christmas quiz with a sensory twist. Use a christmas sack and place different festive items inside and don't let the children see what they are. Ask each child to put their hand inside and guess what is in the sack. You can use tinsel, christmas baubles, christmas crackers, a star, a wrapped present, a candy cane and much more.


12. Christmas colour by numbers
Christmas themed colour by numbers is great fun and teaches the children to follow instructions by colouring from low to high numbers. This will also helps their understanding and development of counting. There are lots of christmas themed printouts online to choose from and the children will have great fun completing their drawing.