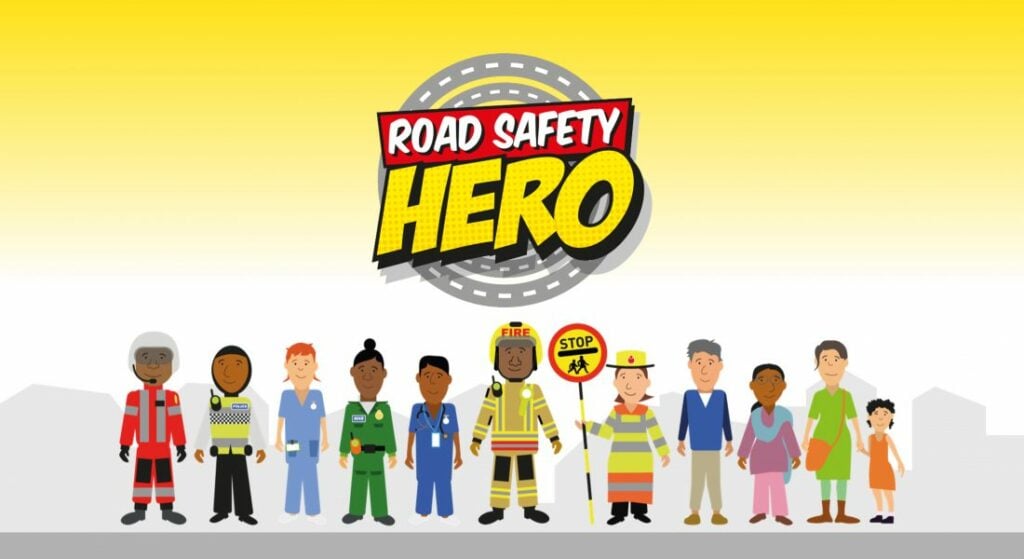 Road Safety Week 15th -21st November 2021
If asked who my Road Safety hero was, I would find it hard to choose, the list would be endless. The safety of our roads is looked after by so many and each one is part of a jigsaw, that if one piece was missing our roads would not be as safe. Whichever role you perform – THANK YOU!
So, who's your Road Safety Hero?
Your hero could be the lollipop lady that made your child smile as they stopped the traffic for you to pass by safely to school. It could be the paramedic that cares for your family member after being involved in a road traffic incident or the traffic warden who stopped parents from parking on zig zag lines outside the school.
Road safety week is a great way to get the whole community involved, nurseries, schools, youth clubs. I was very fortunate to work with the Junior Road Safety Officers (JRSOs) who played a very important part in promoting road safety throughout the year:
Colouring competitions
Poster designs
Road safety assemblies
Walk to school weeks
Santa cycle/scooter ride.
We would remind everyone about visibility in the dark and stand outside in all weathers to hand out stickers. We had a large rabbit called Lollipop that the children used to love to meet. He always wore his high vis waistcoat so he could be seen. We also invited lorry drivers into school to give road safety talks and let the children sit in the truck so they could get an understanding of how invisible a cyclist could be on the road.
As we work to reduce our carbon footprint, being road safety aware is even more important. It is not just about keeping pedestrians safe, but also cyclists too as we see more people biking to and from school/work. When Year 5 & 6 take their cycle proficiency test, they believe they know all there is to know about cycling, however their knowledge increases the more they experience the roads. Schools are champions in promoting road safety with many extracurricular events including pedestrian training and scooter training.
Generations have grown up with advertisements encouraging us to fasten our seatbelts going back to 1963 and emphasis on speed and drink driving. How many do you remember? https://www.rospa.com/rospaweb/docs/advice-services/road-safety/history-road-safety-campaigns.pdf 
The first Highway Code book was sold in 1931 with colour illustrations arriving in 1954.
In 1935 Mr Beere was the first person to pass his driving test, at a cost of 7s 6d (37.5p)
The green cross code was introduced in 1978.
If your school is working towards the sustainable travel award take advantage of this week. Encourage children to be aware, have a special assembly and incorporate it into the curriculum. Why not sign up for road safety week and celebrate everyone that helps to reduce casualties or care for people affected by crashes. https://www.brake.org.uk/road-safety-week